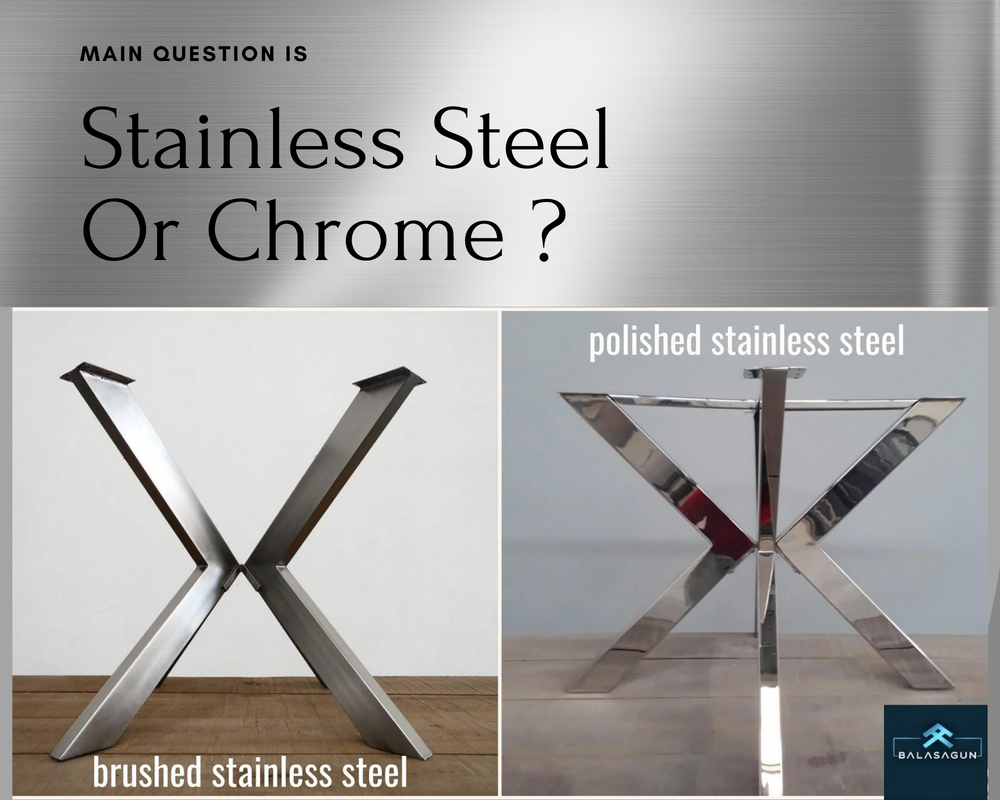 STAINLESS STEEL VERSUS CHROME
Making stylish, elegant, unusual and striking furniture and decor is the biggest factor in changing the atmosphere of your home. When you want to choose the most suitable furniture for your home and for you, markets; It offers an incredible variety in terms of furniture being durable, appealing to the eye and looking modern.
However, the point that will confuse you among all the varieties will be to find the most suitable material and product for you. So this has turned into a strong war between stainless steel and chrome. Both of these two materials have both pros and cons. Room Servise 360 experts think that these materials are extremely suitable for furniture. But you must choose in a way that will bring a new breath to the needs of your home and your lifestyle.
If you are going to make a choice between two materials, it may be necessary to know the differences between the two. In fact, the most basic difference is in their production. The way they are produced is what separates them from each other.
Chrome is an ultra-glossy material, but matte versions are also available, of course. Chrome is lightweight, which makes it portable without any difficulty. Many people want to buy chairs, stools and table legs made of chrome because of this feature. Because it is easier to move. There will be no problem in moving from one place to another .
On the other hand ; It is produced from stainless steel metal alloys. It contains nickel and chromium. Therefore, it is a very durable material. It is extremely heavy compared to chrome. But people like it because of its durability, prefer it.
In short, if we compare it with chrome, stainless steel is a zero ahead in terms of durability. Stainless steel is a material that is highly resistant to scratching, tarnishing and corrosion. Therefore, it is much better than chrome in this regard. Also, chrome is often preferred for decor because it is so shiny. But it has a downside. For example; If there is a scratch or dirt on it, it will show it very quickly. Therefore, it requires a lot of maintenance.
But stainless steel is the opposite. It pleases its users. Because it is easy to maintain and clean. It is a product resistant to scratches and dirt. As a result, which of these two materials will suit you depends on your usage style. If you want to use your furniture for a long time and you want the furniture to have a long life in this process, stainless steel will be the most suitable for you. Another option is if you care more about the aesthetic appearance of your furniture and time it. If you say that you can take it apart and take care of it carefully, then chrome will be the most ideal for you!
 What is your final decision?
Take a deep breath and ask yourself; Does it fit the interior of my home in chrome or stainless steel? Do I have time for maintenance or can I spend time on it?, Which one can I afford?
Finally, after answering these questions for yourself, you will have chosen the best one for yourself. Both are perfect for use! But the most important point is to meet your needs...
WHICH QUALITY DO YOU USE WHEN  MANUFACTURING  STAINLESS STEEL ?
     Balasagun Table Legs  uses  304 Quality in all  stainless steel products .
What is its  place  in decoration  and  where it is used ?
Dining Table legs , furniture legs , coffee table legs , kitchen island legs or benches , very wide range of using .
The first usage areas of stainless steel in decoration are; It is very common to use on table legs, coffee table legs and flower pots. It is also a material that we recommend to our customers as BALASAGUN Team.
Especially, the stainless steel wet floors, which seen much in bathrooms and kitchens, are essential.Therefore, it is the most ideal in terms of usage and preference. In addition, these stainless steels, which offer different options with their surface appearance, have a bright and stylish stance. It makes the table look elegant, especially when used on table legs. Many people will like it…
Morever, we do not want to go without mentioning that, most importantly, it is environmentally friendly, fifty percent can be recovered by recycling.
  WHAT  COLORS  ARE  STAINLESS  STEEL  COMPATIBLE  WITH ?
If you want to use it as a table leg in a kitchen, brown and its tones are the leading colors. Again, we can say that it is good with white and gray tones in the second place.
If you want to use it as a table or coffee table legs in your living room or winter garden, we can suggest that it is compatible with dark green and blue tones.
Finally, we would like to point out that; PANTONE COLOR INSTITUTE, which is accepted as the world color authority, has announced the color of 2023 as Viva Magenta as 2022 is getting ready to end. Announcing the trend color of the year in December every year, Pantone Color defined this year's color as a bold, humorous and all-encompassing color that enjoys pure happiness, is not afraid to experiment and expresses itself without restraint. In addition to :"This year's color has been powerful and empowering," said Leatrice Eiseman, Executive Director of the Pantone Color Institute.
Wouldn't you like to make a stainless table leg and enliven your room with trendy colors? In that case, Come on, you can visit our website and order the most suitable stainless steel  table leg collection for you…
Melis Ömür
Balasagun Team