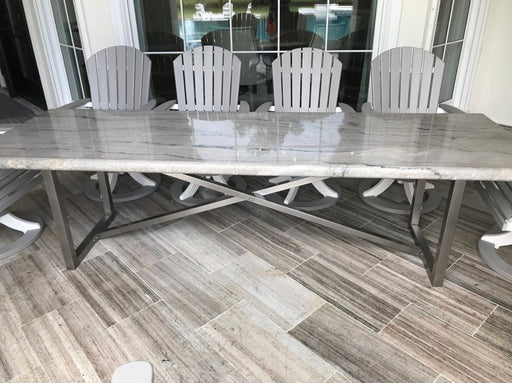 As the weather warms up, many people are looking to spend more time outdoors, including dining al fresco. Outdoor dining tables and benches offer a perfect solution for creating a functional and inviting dining space in your outdoor living area. Stainless steel is a popular material for outdoor furniture and fixtures, including table legs, due to its durability and resistance to corrosion, rust, and staining. Here are a few reasons why stainless steel table legs are a good choice for outdoor use
PHOTO ​​BY : BALASAGUN
​​​​
Stainless Steel Outdoor Dining: Style and Durability Combined
Stainless steel is a highly durable and versatile material that is well-suited for use in outdoor furniture and decor.


FEATURES OF THE PRODUCT YOU SEE ABOVE: 16" X Frame Table Legs, Base Widht 14'' Stainless Steel Bench Legs Set (2)
PHOTO ​​BY: BALASAGUN
Its corrosion-resistant properties make it ideal for outdoor use, as it can withstand exposure to the elements without rusting or corroding.
Additionally, stainless steel has a sleek and modern appearance that can complement a range of design styles, from contemporary to industrial
PHOTO BY:​​ BALASAGUN
By choosing outdoor dining tables and benches made from stainless steel, you can ensure that your outdoor living space is not only stylish but also functional and long-lasting.
PHOTO BY : ​​BALASAGUN