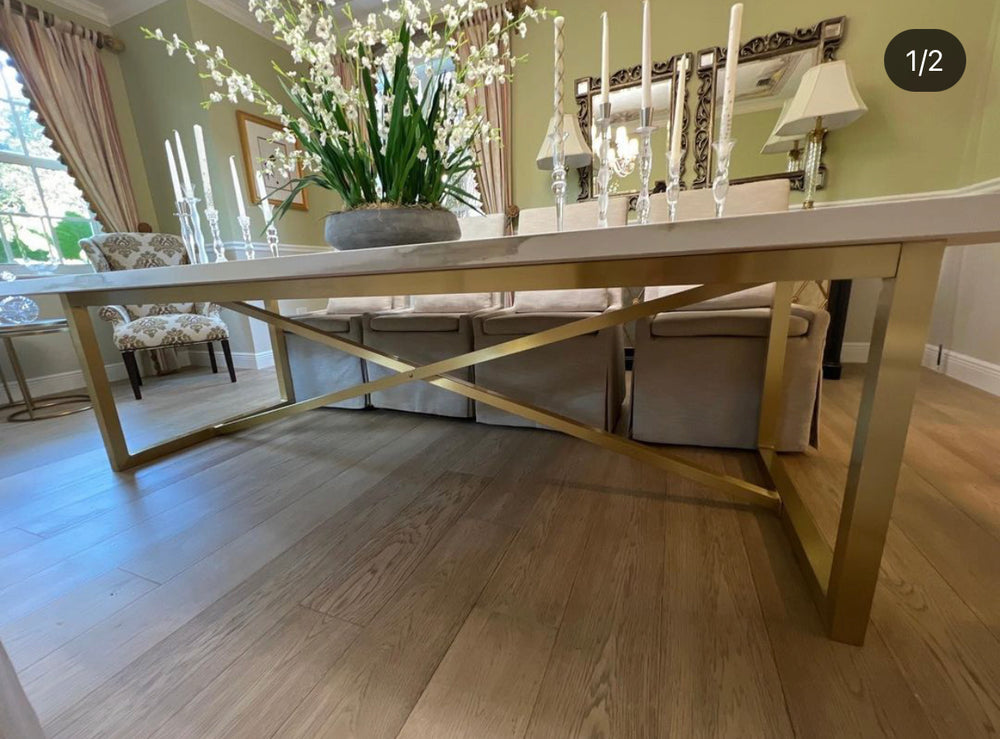 The dining room is the gathering point in your home; it unites friends and family through the joy of sharing food together. For your dining room to reflect your family's personality and character, you need the perfect dining room table to complete the interior. 
Don't forget about stability and durability.
While style and material are important factors to consider when choosing dining room table legs, don't forget about stability and durability. You want legs that can support the weight of the table and any items placed on it, as well as withstand regular use and potential wear and tear. Look for legs made from sturdy materials like metal or hardwood, and consider the design of the legs to ensure they provide adequate support. Additionally, make sure the legs are properly attached to the table to ensure maximum stability.

The dining room is the gathering point in your home; it unites friends and family through the joy of sharing food together. For your dining room to reflect your family's personality and character, you need the perfect dining room table to complete the interior. 
Changing out your dining room table's legs is a small change that has a huge impact on the room's overall design. If you're updating or completely remodeling your dining room, read on for tips on choosing the best legs for your dining room table. 
Considerations When Choosing Dining Room Table Legs 
Before running to your local hardware store and buying the first set of legs you lay eyes on, there are a few practical things to consider. Start the process by examining the existing legs of your dining table. 
Ask yourself the following:
Does the current table height work for you and your family? 
Are you planning to purchase new chairs that will change your table height requirements? 
What size (and shape) tabletop do the legs need to match and support?
Do you want legs that compliment or contrast your current interior design style? 
Once you've decided exactly what you're looking for, you can begin browsing through Pinterest boards and compiling inspiration pictures.  
Styles, Materials, and Colors 
Do you want your dining room table legs to be conversation starters? Choose table legs with a key feature that commands attention. 
Thick, bold table legs help ground and center the table in larger rooms. Their sturdy, commanding presence is a must in rooms with luxurious and glamorous accents. Keep in mind that lighter colors will show shoe prints and require more frequent cleaning. 
Thin table legs can blend into their surroundings or stand out with iconic silhouettes and lines. Use bright colors to add character to the room without bulking up the table. For rooms on the darker side, thin table legs will work because. They don't have large shadows which would further darken the room. 
Darker-colored table legs introduce intrigue and mysticism into the room. Black or other dark metals are perfect for an industrial-style interior and have the added bonus of high versatility. If you're looking to modernize or upgrade your dining room, spray painting your table legs a darker color can be the added edge you need.
Warmer metals introduce a sleek and welcoming color palette to your room. Bohemian-style rooms often make use of copper, gold, or brass table legs to play off of rich jewel-toned accents. Using warm metals helps modernize the laid-back Boho vibe. 
Wooden table legs are ideal for mid-century modern interiors. This design style is known for tapered table legs and warm wood tones. 
For a softer Bohemian look, go for wooden table legs. Use different wood stains to match the other colors in the room and keep your design cohesive.
Dining Table Legs For Round Tables 
Different types of dining room tables work better with certain table leg silhouettes. For a round table, you want to create a strong and stable base that doesn't take up too much room. 
Hairpin table legs are available in every metal tone and add stylish flair to the simplest of tabletops. Choose between bases with three or four legs depending on how many seats you'll place around the table.
To avoid the awkward and uncomfortable table leg straddle, go for a pedestal table base. These are bottom-heavy, ensuring your table remains upright while looking neat and sophisticated. Simple pedestals are useful if you want the attention to remain on the tabletop.
Ornate pedestals spice up simple tabletops and add intricate detail to the entire room. They are a perfect choice for glass tabletops; you'll lose none of the intricacies!
Dining Table Legs for Long, Rectangular Tables 
Rectangular dining tables need sturdy, strong bases to carry the weight of the tabletop. Bold and bulky table legs add drama to the table. Play on their boldness by choosing a textured-metal finish or spray painting them an accent color that compliments the room's decor. 
Table legs with a bar connecting the two ends give your guests something to rest their feet on. Metal dining table legs are easy to clean, so you won't need to worry about dirty shoes! 
Trapezoid-frame table legs draw the eye upwards, making them perfect choices for a statement tabletop. If the asymmetrical look isn't for you, square-frame table legs are another stylish option. 
Dining Table Legs for Square Tables 
Highlight the gorgeous symmetry of your square tabletop with the right table legs. For a congruent look, why not use square-frame table legs? The repeated shape keeps the dining table from taking away from the rest of the room's decor and helps modernize the space. 
If you're looking for something flexible, X-shaped table legs are often adjustable. This gives you the ability to adjust your table height as needed without any hassle. 
Table legs with an H-shaped frame add visual interest while keeping out the way of swinging legs. A-frame table legs do the same job but bring a different, gentler vibe. 
Find the Perfect Dining Room Table for Your Home
By now you should know exactly what goes into your table leg decision process. From style and color to material and shape, no choice is too small when adding to your home's interior. 
For gorgeous custom metal table legs and bases, Balasagun is the manufacturer of your dreams. With years of experience working with different metals and other trendy materials, we are sure to create what you're looking for.  
Balasagun offers you customization every step of the way, from silhouette to metal finish. Whether you're an avid DIYer, architect, interior designer, or have just dipped your toe into the home renovation world, you're in the right place. 
Ready to upgrade your dining room with gorgeous new dining room table legs? Contact us today and let us bring your design dream to life.