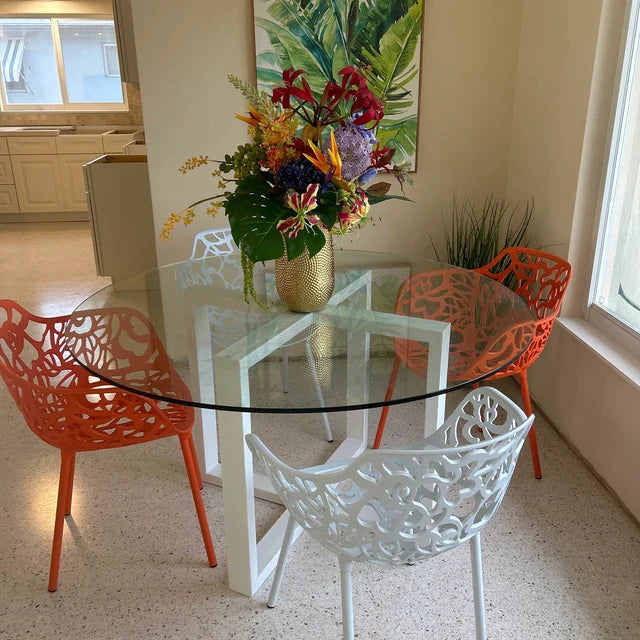 The modern round table is a very popular design in the furniture world. We can say that these tables are an important piece of furniture used in our homes and offices. However, in order for such tables to stand firmly, appropriate table legs must be used. Therefore, in this article, I will offer table legs suggestions suitable for round tables.
TUG :  TUG BASE is one of the most choosen model for round tables .It can be a very suitable choice for round tables. You can use glass , marble or wood table top material.These bases are located at the bottom of the table and are positioned inclined towards each other. In this way, they ensure that the table stands firm.
It has sturdy structure and high weight capacity and modern contemporary design . 
PHOTO BY : BALASAGUN ​​
                                                                                   PHOTO ​​BY : BALASAGUN
Steel Frame Roud Table Base is another model that has very high demand . ıt has simple design that can be adapted in various interior styles .Also ıt has well structured.It has design that can adapt to many different projects . A wide variety customization will be avaliable according to your project .
TULIP   Legs :
TULIP Base is a model that mixes comfort and elegance with stylish elegance design . Pedestal base Best paired with a circular table top or to support an overhang counter top on one side. 
Your pedestal base should be mounted to the center of your tabletop. Our pedestal bases should be ordered according to the dimensions of your top.
 We recommend a roughly two-thirds ratio to the width of your base, and the width of your tabletop.  
This type of legs is ideal for use in small areas as it does not take up much space under the table. In a cafe, tea garden or in a balcony corner.
PHOTO BY ​​:  BALASAGUN
DIZDAR Base 
DIZDAR Base is created in a range of high end luxurious styles % finishes .Brass material craftmanship and modern design make the base elegance and center point of the dining room . You can use wood , glass and marble table top safely .
PHOTOBY: BALASAGUN ​​